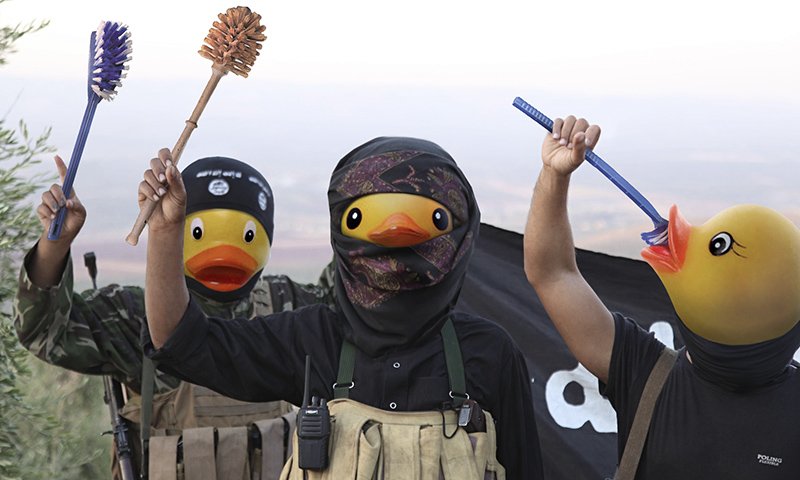 Previously, I summarised and sketched the situation regarding Europe's policy of developing the "Southern Gas Corridor", to provide Natural Gas supplies from resources that are not the Russian Federation and its satellite countries. My conclusion from a British perspective was that the United Kingdom should be very cautious in widening its military engagement in the region to include a proposed bombing campaign against Syria. Increasing violence in the region will harm energy transport projects and damage existing infrastructure. By way of example, renewed conflict between the Turkish government and the Kurdish Workers' Party or PKK has been suggested as the incentive behind recent destruction of gas pipelines, events that have suspected of being assisted by Russian "forces", an alliance that appears to have a history.
The British Prime Minister David Cameron has recently made his case for an air campaign in Syria, and it is to this that I turn. It is a political document, and so naturally enough contains language that is contestable. For example, in the first paragraph, the Prime Minister writes, "Whether or not to use military force is one of the most significant decisions that any government takes. The need to do so most often arises because of a government's first duty: the responsibility to protect its citizens." The UK is already using military force across the border from Syria, in Iraq, as the document outlines later on, so it is curious that David Cameron feels he has to appeal to the Foreign Affairs Select Committee regarding very similar action in Syria. There is a significant level of evidence to reasonably argue that attacking Islamic State with an air campaign will lead to reprisal attacks in the UK from Islamic State sympathisers, so air strikes against Syria might damage national security in Britain.
To understand this, you would need to understand the appeal that Islamic State philosophy has to a small group of deluded, desperate, brainwashed activists. For those who aren't Islamic State adherents, it would be hard to understand the "death cult" fundamentalism enshrined in its philosophy, so it would be impossible to understand why there would be anyone prepared to sympathise with Islamic State and wish to support it by the use of massacre and suicide. But if you want to understand how provocation of Islamic State by aerial bombardment could precipitate violent responses on the streets of Europe, all you need to do is look at the evidence from Paris and Brussels coming in the last few weeks. When all the talk was about young people being seduced by the insane rhetoric of Islamic State and running away to fight in Syria, it all seemed harmless enough – although tragic and bewildering for their families. But now European nationals have returned home as secret trained suicide bombers, and recruited their peers and sometimes siblings and other relatives to the Islamic State cause, it's no longer a sad tale of teenage and twenty-something obsession. To extend the British air campaign into Syria won't fix this problem, neither will closing borders.
When David Cameron says, "it is … vital that the Government can act to keep this country safe", he says it in defence of the use of violent attack or "force", but there are obviously more human, humane, cheaper, cyber, public relations, political ways to keep the UK safe. He writes, "Throughout Britain's history, we have been called on time and again to make the hardest of decisions in defence of our citizens and our country", but it appears that he hasn't learned any lessons from the last century, especially the last 21 years. Every time that the UK has been involved in a major aerial bombardment campaign, things have gone badly, either for British armed forces, or British nationals – not to mention the citizens of other countries, who in some cases, if they've survived being carpet bombed, have been documented as starting to hate Britain because of British warfare. It's a short step from hating Britain to sympathising with a rhetoric of anti-British violence, so it could be relatively rationally explained that British air campaigns of the last few decades have weakened our defences.
David Cameron writes, "Today one of the greatest threats we face to our security is the threat from ISIL. We need a comprehensive response which seeks to deal with the threat that ISIL poses to us directly, not just through the measures we are taking at home, but by dealing with ISIL on the ground in the territory that it controls. It is in Raqqa, Syria, that ISIL has its headquarters, and it is from Raqqa that some of the main threats against this country are planned and orchestrated." However, bombing Islamic State on the ground in the territory it controls won't diminish the threats to the United Kingdom from Islamic State trained or inspired "operatives" and disciples who have never even travelled to the Middle East, and in fact, it is unlikely that any of the people living in the territory that Islamic State inhabits would have anything to do with violent attacks against the United Kingdom, inside the United Kingdom. The suicide bombers in Paris were not Syrian or Iraqi. And although Islamic State claimed responsibility for the attacks, it is unclear how Syrian and Iraqi leaders in Islamic State could have orchestrated them. What good would bombing Islamic State in Syria and Iraq do in making Britain safer ?
David Cameron writes, "We must tackle ISIL in Syria, as we are doing in neighbouring Iraq, in order to deal with the threat that ISIL poses to the region and to our security here at home", but you can't fight an ideology with guns or silence their extremism with bombs. He also writes, "We have to deny a safe haven for ISIL in Syria. The longer ISIL is allowed to grow in Syria, the greater the threat it will pose", but the question is, a threat to whom and what ?
This is beginning to sound like the propaganda that was once designed to oppose the man who is still the official leader in Syria, Bashar al-Assad. And in fact, David Cameron's appeal includes him later, when he says British aims should be to "secure a transition to an inclusive Government in Syria that responds to the needs of all the Syrian people and with which the international community could co-operate fully to help restore peace and stability to the whole country. It means continuing to support the moderate opposition in Syria, so that there is a credible alternative to ISIL and Assad."
Later again, he writes, "Some have argued that we should ally ourselves with Assad and his regime against the greater threat posed by ISIL, as the 'lesser of two evils'. But this misunderstands the causes of the problem; and would make matters worse. By inflicting brutal attacks against his own people, Assad has in fact acted as one of ISIL's greatest recruiting sergeants. We therefore need a political transition in Syria to a government that the international community can work with against ISIL, as we already do with the Government of Iraq." There is also the comment, "Assad regime's mass murder of its own people".
So it seems there has not been a reversal : Assad is still not in favour, despite Assad's military campaign against Islamic State. Let's just recap here on the "killing his own people" concept, an accusation levelled at the leaders of both Iraq and Libya before the UK bombed them. In Syria's case, Assad's repression of anti-government elements was accepted by the "international community" for some time, until the crackdown on the "Arab Spring" protests which lead to a civil war – during which, arguably, Assad's forces committed crimes against humanity.
But if you think about it, since the "Arab Spring" was possibly largely a result of the exercise of Internet-fed "soft power" by American intelligence agencies and their allies, it would be logical and reasonable for Assad to attempt to quell it, and to attempt to keep social stability. So how does that make Assad a bad person ? And what justifies the international community demanding that he be removed from power ? And why were no representatives of the Syrian government or any of the Syrian opposition parties – "anti-Assad forces" – invited to the International Syria Support Group (ISSG) in Vienna at the end of October 2015 ? David Cameron should not include the removal of Assad from leadership in his appeal to bomb Islamic State in Syria. The parties in the Syrian civil war need to come to a negotiated settlement, but this is a separate issue to the question of the UK fighting the influence of Islamic State by bombing in Syria.
If Assad is not good enough for Syrian leadership, and the anti-Assad forces are not good enough for Syrian leadership, and Islamic State is not good enough for playing any part in Syrian governance, then what is David Cameron really arguing for ? The clue may lie in this, "putting Britain's full diplomatic weight, as a full member of an international coalition, behind the new political talks – the Vienna process. It means working through these talks to secure a transition to an inclusive Government in Syria that responds to the needs of all the Syrian people and with which the international community could co-operate fully to help restore peace and stability to the whole country. It means continuing to support the moderate opposition in Syria, so that there is a credible alternative to ISIL and Assad. It means using our aid budget to alleviate the immediate humanitarian suffering. It means insisting, with other countries, on the preparation of a proper stabilisation and reconstruction effort in Syria once the conflict has been brought to an end. And it means continuing, and stepping up, our effort here at home to counter radicalisation."
Aside from the humour in trying to identify who is "moderate" in the Syrian conflict, since all the opposition groups appear to be belligerent and divisive, there is a commitment within a commitment here. What David Cameron is apparently arguing for is not only the involvement of British forces in an air campaign – but also an occupied Syria – occupied by the armed forces of the economically and politically powerful nations of the world. It's worked so well in Iraq, of course (not), that it deserves to be replicated (not).
But hang on – this is not Britain's agenda – this is an American agenda – and it should be resisted.
It would be very costly, not only economically, but also in terms of Britain's reputation abroad. It could spark further hatred of the United Kingdom, and could lead to further acts of terror and sabotage in Europe. Do we really want to risk that ?
How about a genuinely non-violent response to Islamic State ? Instead of interference with the state of Syria – which could well become destabilising – just look at Iraq and Libya.
A common factor with Iraq and Libya is that energy production, storage, transmission, distribution and supply has obviously been affected by the warfare and uprisings in Syria – and it seems that Islamic State have been selling Syrian oil to finance their resistance to all the other militaries in the region. Some of that money could have been used to finance terrorism in other countries, as well.
An American-led occupation of Syria would obviously assist in stabilising the energy sector, and ensuring safe passage for gas and oil, for example in pipelines and power grids. But Europe's desire for Natural Gas from non-Russian sources should not be any kind of reason for the UK to bomb and occupy Syria.