Image Credit : SkepticalScience.com
It should come as no surprise that the United Nations (under UNFCCC) commissioned a report from the Intergovernmental Panel on Climate Change (IPCC), way back in 2007.
The revelation is that very few people appear to have read any of it.
So I thought I would present just a little about the "robust findings" of Working Group 1 (WG1 or WGI) of the Fourth Assessment Report (AR4). I think the IPCC's science needs a wider public readership, and so I hope that this post in some way enables that.
The unpacking of the Working Group 1 report "Climate Change 2007 : The Physical Science Basis" could begin by looking at the Technical Summary, or the overall AR4 Technical Summary, or the Synthesis Report, or their respective Summaries for Policymakers.
These can all be found online, readable and downloadable without payment or subscription :-
https://www.ipcc.ch/publications_and_data/publications_and_data_reports.htm
https://www.ipcc.ch/publications_and_data/ar4/wg1/en/contents.html
https://www.ipcc.ch/pdf/assessment-report/ar4/syr/ar4_syr.pdf
https://www.ipcc.ch/pdf/assessment-report/ar4/syr/ar4_syr_spm.pdf
https://ipcc-wg1.ucar.edu/wg1/Report/AR4WG1_Print_SPM.pdf
I'm going to home in on the Working Group 1 Technical Summary :-
https://www.ipcc.ch/publications_and_data/ar4/wg1/en/ts.html
https://ipcc-wg1.ucar.edu/wg1/Report/AR4WG1_Print_TS.pdf
looking at Section TS.6 "Robust Findings and Key Uncertainties", and more specifically Section TS.6.1 "Changes in Human and Natural Drivers of Climate" :-
https://www.ipcc.ch/publications_and_data/ar4/wg1/en/tssts-6.html#ts-6-1
---
ROBUST FINDING (1)
"Current atmospheric concentrations of CO2 and CH4, and
their associated positive radiative forcing, far exceed those
determined from ice core measurements spanning the last
650,000 years."
ROBUST FINDING (4)
"The sustained rate of increase in radiative forcing from
CO2, CH4 and N2O over the past 40 years is larger than at
any time during at least the past 2000 years."
The IPCC report gives a chart with three main high Global Warming Potential (GWP) Greenhouse Gases (GHG), Carbon Dioxide (CO2), Methane (CH4) and Nitrous Oxide (N20) :-
This graph shows asterisks for the current values, but does not plot them. That could be a little confusing, so to illustrate the IPCC's statement, here are some other diagrams that include more recent values of Carbon Dioxide :-
https://cses.washington.edu/cig/figures/ipccar4co2big.gif
Less of a Hockey Stick, more of an Moon Rocket, as you can see.
And yes, it's unprecedented. A recent research paper by Etkin (2010) chose a novel way to depict just how far the Earth's Atmosphere is out of the normal, natural variations. Here's a summary :-
SkepticalScience.com on Etkin (2010)
---
ROBUST FINDING (2)
"Fossil fuel use, agriculture and land use have been the
dominant cause of increases in greenhouse gases over the
last 250 years."

https://www.skepticalscience.com/human-fingerprint-in-global-warming.html
https://www.eia.doe.gov/oiaf/1605/ggccebro/chapter1.html
---
ROBUST FINDING (3)
"Annual emissions of CO2 from fossil fuel burning, cement
production and gas flaring increased from a mean of 6.4
± 0.4 GtC yr–1 in the 1990s to 7.2 ± 0.3 GtC yr–1 for 2000
to 2005."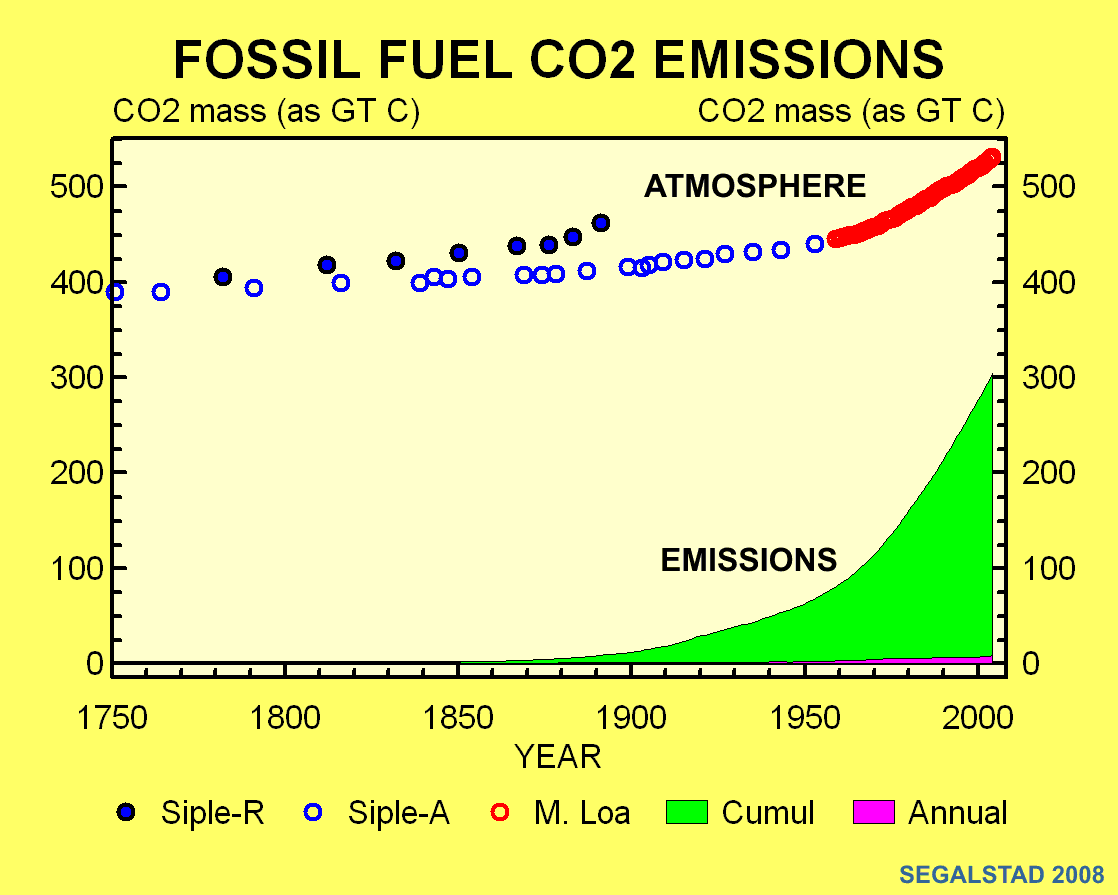 ---
ROBUST FINDING (5)
"Natural processes of CO2 uptake by the oceans and
terrestrial biosphere remove about 50 to 60% of
anthropogenic emissions (i.e., fossil CO2 emissions and
land use change flux). Uptake by the oceans and the
terrestrial biosphere are similar in magnitude over recent
decades but that by the terrestrial biosphere is more
variable."
The discussion of the Global Carbon Cycle is riven with unintelligible diagrams, for example :-
or even, plain fanciful ones :-
The simpler, the better, in my view :-
There is a possibility that the Carbon Sinks are becoming less able to absorb all the Carbon Emissions we make :-
https://www.nature.com/nature/journal/v462/n7271/edsumm/e091119-10.html
Carbon Sinks in detail :-
https://www.scidev.net/en/policy-briefs/the-lowdown-on-carbon-sinks.html
---
ROBUST FINDING (6)
"It is virtually certain that anthropogenic aerosols produce a net negative radiative forcing (cooling influence) with a greater magnitude in the NH than in the SH."
NH = Northern Hemisphere
SH = Southern Hemisphere
To understand this finding, you do need to understand what "aerosols" are :-
https://earthobservatory.nasa.gov/Features/Aerosols/
You also need to be clear about what "radiative forcing" means, and what the various contributions are from the various atmospheric components :-
The finding means, in colloquial terms, that "where there's more stuff being burned, and there's more gunk in the air, then warming is not so fast".
The evidence for this comes from "Global Dimming" :-
US Version :-
https://www.youtube.com/watch?v=gUD66kjLVNw"
https://www.youtube.com/watch?v=DZnnLnl8L2w
https://www.youtube.com/watch?v=eLLsTdaVgsc
https://www.youtube.com/watch?v=VcSW-ZsmpIY
https://www.youtube.com/watch?v=nucwkm1a1wA
BBC Version :-
https://www.youtube.com/watch?v=bLfBXRPoHRc
https://www.youtube.com/watch?v=2e_XBwPHqz8
https://www.youtube.com/watch?v=ueaib127Ebk
https://www.youtube.com/watch?v=ayd5R2NkVcA
https://www.youtube.com/watch?v=yA74df19bWs
---
ROBUST FINDING (7)
"From new estimates of the combined anthropogenic
forcing due to greenhouse gases, aerosols and land surface
changes, it is extremely likely that human activities have
exerted a substantial net warming influence on climate
since 1750."
What is known as "attribution" has been gaining pace in other parts of the field as well :-
https://www.realclimate.org/index.php/archives/2010/05/on-attribution/
---
ROBUST FINDING (8)
"Solar irradiance contributions to global average radiative
forcing are considerably smaller than the contribution of
increases in greenhouse gases over the industrial period."
And here's the solar contribution compared to the volcanic contribution :-
Changes in the output of solar radiation have not been a major factor in the increased Global Warming seen in the last few decades. I think the two diagrams in this short paper make that absolutely clear :-
https://www.grist.org/article/its-the-sun-stupid
https://science.nasa.gov/science-news/science-at-nasa/2009/01apr_deepsolarminimum/
https://www.nasa.gov/topics/solarsystem/features/sun-brightness.html