Image Credit : Anja Niedringhaus
It doesn't matter which way up Michel Jarraud (Secretary General of the World Meteorological Organization) holds the temperature chart. The only way the trend can be understood is upwards. The temperatures are going up.
That's Global Warming, folks !
Looking at the temperature data from any of the major data sets around the world, it doesn't take a second to accept that the Earth is warming :-
That doesn't stop rogue weather forecasters raining on the Climate Change parade :-
https://www.positiveweathersolutions.co.uk/UN-Climate-Change-Conference%2C-Copenhagen—Statement-.php
Apparently there's some kind of underground bush telegraph amongst amateur and semi-professional weather prophets. Many of them don't accept the data on Global Warming.
Apparently this crew, Positive Weather Solutions, billing themselves as "Wales' Only Independent Weather Forecasters", have proof, from tree rings, from just one part of the globe, in the form of a diagram from Dr Roy Spencer, a known sceptic, that Global Warming is nothing to worry about :-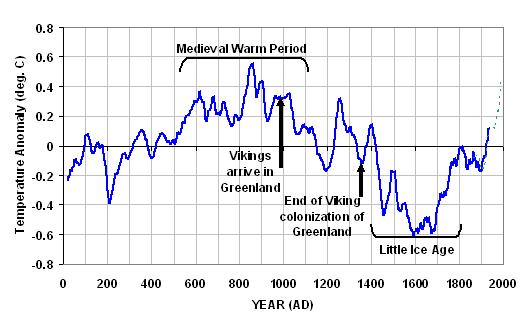 I just love the clarity of that diagram : no references given, no recent data (see, the dotted rising line on the right stops at the year 2000), and the fact that it appears to document only European temperatures, not global.
Where did they share that proof with the public ? Probably at the sceptics conference on the other side of Copenhagen town :-
https://www.timesonline.co.uk/tol/news/environment/article6948960.ece
"December 8, 2009 : Copenhagen sceptics have a slogan: 'The world isn't getting warmer, it's going mad'"
I learned about the PWS tree ring proof in the Metro free newspaper in London, published 8 December 2009 :-
"…but is it all just a lot of hot air ? A British weather forecasting group has told the Copenhagen climate change summit that global warming is a myth. The verdict from Positive Weather Solutions, which claims it has a track record of accurate long-range forecasts, is another blow to the conference after the 'Climategate' e-mails allegedly showed experts hiding temperature declines…"
Marvellous stuff !