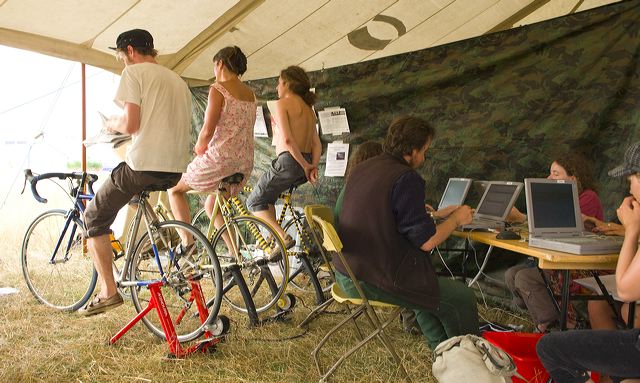 What would you do if you met a Climate Camper face to face ? And how could you be sure ? Would they have dreadlocks ? A facepainted clown face, raggedy, dirty clothes ? Would they be shouting ?
More to the point, would they be getting in your face ? Or in your way ? Would they be threatening or violent or extremely negative ? Or would they offer you a cup of tea and a nice wholemeal organic flapjack ?
Be prepared to have your paradigms shifted this week, as London gets another Climate Camp on its doorstep. It's going to be funny. It's going to be fantastic fun. And it's going to be flying in the face of conventional politics.
Why do people bother ? You may care to ask. Why create a fuss in public ? Why not just go home, have a shower and write a letter to your MP if you feel upset about something ?
Haven't you noticed ? Britain's overall Carbon Emissions (including from imported food and goods) are still rising; British transportation is still highly reliant on Petroleum, British power is still generated from dirty Coal, and British agriculture is still dependent on Petrochemicals.
This means that the current management (as known as "the Government") is not on top of the Climate Change problem, nor the Energy security problem. The North Sea Oil and Gas fields are giving up the ghost, Nuclear Power is falling to pieces, new Nuclear Power would be very very expensive and a long way off, Wind Power should be ramping up much, much faster, and Coal should be left in bed.
If the Government aren't up to the job, then somebody has to tell them. If the Media aren't giving it to us straight, then somebody has to create journalistic waves. What lengths are people prepared peacefully to go to ? One of the conservative faith-based non-Governmental organisations is using the word "trespass" to get the message across :-
https://www.christianaid.org.uk/ActNow/Countdown-to-Copenhagen-climate-change/mass-visual-trespass/what-is-mvt.aspx
"Welcome to the latest, boldest step in our campaign for a fair deal at December's climate change talks in Copenhagen. This autumn, as the crucial summit approaches, we will be staging a series of projections at sites across Britain – our Mass Visual Trespass."
Christian Aid is virtually a state-sanctioned vehicle, and yet they feel the need to engage the public in some audiovisual skirmish. Just think what the radical thinkers feel they have to do !
As part of our witness to Climate Change and its crimes against humanity, we've tried making use of the channels of participation open to us.
When the Government has said "make some activists and build a movement, then we can take stronger action", well, we did that. We have over 5 million people in the Stop Climate Chaos warehouse, and a good many more sympathise with aims to : reduce Energy waste, regulate for more Energy efficient manufacture, roll out mass home insulation programmes, re-develop public transport, ramp up Renewable Energy.
But things are not happening fast enough. And the Copenhagen treaty looks like it will be full of unworkable measures such as Carbon Trading, so-called Reduced Forestation and the "Clean" Development Mechanism.
And to cap it all, our Climate Change Chief Negotiator John Prescott and ex-Prime Minister newly-Global Envoy Tony Blair say we are going to have to lower ambition on Carbon reduction targets.
Something is seriously, seriously wrong when you have to go and camp on somebody's doorstep until they pay attention to what you have to say.
It shouldn't happen in a democracy. But if that's what we've got to do, we've got to do it.